Choosing the Right Types of Customer Service for your Business
Happy customers are key to a successful business. They are also your biggest marketing strategy and greatest promoter. But at the same time, if a dissatisfied customer vents about your company to other people, it will have a huge negative impact on your business. 
With customer support constantly evolving, choosing the right type of customer service for your business might seem challenging. In this blog, you can find the answers to all your questions on how to choose the right type of customer service for your business.  
Understanding your customer's needs 
Before diving into the different types of customer service, you should first understand the needs of your customers. 
Customer needs can be categorized into product needs and service needs. Whether your customer is looking for a product or a service, there are certain criteria they consider. 
Product Needs
The product must be a

convenient

solution to the customer's functional needs. 

The product should fit the unique budget and

pricing

needs of the customer. 

The product should be

compatible

with the other products they use. 

The

design

of the product should be intuitive and easy to use.

The product should be as

reliable

as advertised to be. 
Service Needs 
Customers are always on the lookout for

information

right from searching the product to months after purchase. 

Your customer support and customer success teams should be easily

accessible

to the customer. 

Understanding the customer's issue and

empathizing

with them can increase customer satisfaction. 

Customers love different

options

being offered to them in terms of purchase, payment, subscriptions, etc. 

Customers love it when there is

transparency

in the company they are associating with. 
What are the different types of customer service?
This is not going to be just another list of all the different types of customer service options available. Along with the common types of customer service, we have also added a bunch of newer options that you might not be familiar with. 
Functional Support 
All the basic and traditional support options which most businesses incorporate in their customer service strategies can be clubbed under the umbrella of functional support.  Let's dive into the details of each type of customer service that falls under functional support.
#1. "Hello, How can I help you today?" – Phone Support 
Phone support is still one of the popular support options that are available right now. What still makes phone support the most versatile option is that everyone knows how to use it and everyone has access to a phone.  So, customers find it convenient to get their issues sorted via telephonic conversation. 
The advantage of offering assistance over the phone is that you get to hear your customer's voice and tone, and this helps you understand your customer's emotions better and lets you assess the problem accordingly. Plus, it saves you the time spent on typing out the solution, unlike email or chat.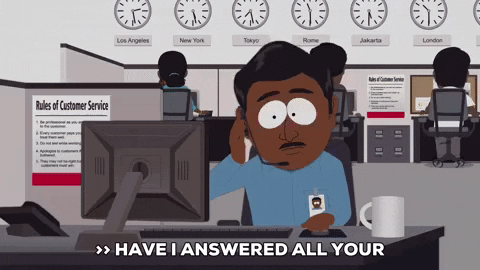 You can have a dedicated call center or hire a few customer service representatives for call support. We recommend a cloud-based phone support software that can be accessed from anywhere and also be set up with ease. All your conversations are backed up, which helps in streamlining your support workflow. You can also implement an Interactive Voice Response (IVR), and gather more information about the customer's issue beforehand by asking the customers to enter a series of numbers and route the call to the right agent or team. These AI-powered IVRs are also capable of addressing common queries like order status, refund status, and more. 
Industry experts also agree that cloud support options are the future especially for call centers or contact centers. Phone support is here to stay and cloud-based phone support is your ticket to the future of phone support. 
#2. "Thank you for reaching out to us" – Email Support 
With over 269 billion emails being exchanged every day, email is still one of the most reliable modes of customer service. With email support, the customer can also reach out to you even after business hours and you can respond accordingly in your business hours. But always remember that you should send out a reply within 24 hours. 
A good email reply creates a lasting impression. While it is important to maintain professionalism when it comes to sending customer emails, it is okay to occasionally sprinkle your message with some humor or wit as long as it is related to the issue at hand. But never fall into 62% of the companies which ignore or never bother responding to customer service emails. 
Here is an example of how a customer support agent from Lego saved a child's day with his amazing email reply and resolution. 
Source: Twitter
#3. "Please check your DM" – Social Media Support 
Everybody is on social media and if you aren't then it is about time that your business marks its presence on it. Anything that is extremely good or bad with customer support ends up on social media. If it is good, you might see an increase in your customer base. But what if it is bad? Your business is at the risk of losing one or more potential customers. Handling social media doesn't mean just one channel but keeping track of Facebook, Instagram, Twitter, and Linkedin accounts. Having a dedicated social media support team will help you handle all your social media interactions and tickets. 
With the popularity of social media, many businesses are rising out of social media channels. One such popular medium is Instagram. If you are a small business, having an active Instagram handle and two or three agents for Instagram support will help you acquire more customers. Tiffany & Co, GoPro, Glossier are a few examples of brands that grew out of social media. 
Always responding to your social media queries publicly gives you opportunities to show your customers that you care. Be it positive or negative reviews, owning up and addressing the issue publicly can create a win-win situation. It's also a good practice to respond to queries on social media as quickly as possible. Sometimes a small gesture of quick response can go a long way in creating a good impression. 

Jetblue, an American airline has always been a star when it comes to Twitter support. One of their customers tweeted how he wasn't able to get a Starbucks coffee because Boston's Logan airport has a smaller terminal. Their customer support team immediately got into action and delivered a Starbucks Venti Mocha right to his seat on the plane. The customer, Paul, also featured the story as a blog on his website indicating how a small gesture can make a big impact. This is how good customer support wins you, customers, for a lifetime. 
Scaling Support 
Now that you have established your customer support in the three most predominant channels, it is time that you start scaling your support options. When your business grows, you should offer more channels for your customers to get in touch with you. 
#4. "Greetings. We'll get that solved right away" – Live Chat
Did you know that 41% of the customers choose live chat over other support channels? And that the satisfaction rate achieved through live chat is a whopping 92%? 
The reason why live chat is now evolving to be an important customer support channel is that it offers immediate support to customers. Embedding a chat widget on your website or mobile app can help your customers reach out to you easily. 
With live chat, you can also proactively reach out to customers. You can set up a popup and send a warm greeting to your customers whenever they enter your website. You can also set up triggers that offer assistance with a simple message saying "Hi, I am [name]. If you are having trouble finding a product, I'll be happy to help" when your customers are displaying signs of frustration such as rage-clicks or dead-clicks.  
The biggest advantage of using live chat is that an agent can handle two or more customer conversations at the same time.  To add on, common queries can easily be solved by sending out canned or predefined responses. 
With the help of chat software, you can easily target your customers and identify potential leads. Here is an example of how Freshchat helps in proactively reaching out to your customers. 
#5. FAQs for the win – Customer Self Service 
Having different self-service options will be beneficial for your agents and also your customers. Customers can easily find answers to the common queries without having to reach out to customer support every single time (67% of the customers prefer self-service than having to interact with a customer service agent). This, in turn, reduces the number of incoming support tickets. If there is a reduction in the number of common queries you receive, it means your knowledge base is doing a good job. 
An exhaustive knowledge base also helps agents get the information they need from a single place rather than having to search everywhere for it. This will better inform the agents and help them deliver quality customer support. 
Another way to provide self-service support is through community forums using which customers can easily search for an issue, find solutions based on the previous conversations, and interact with one another. 
Chatbots are also quite efficient in suggesting the right FAQS and knowledgebase articles to the customers. But, more on that in the next section. 
Here is an example of a well-organized self-support page. The questions are categorized clearly and there is also a search option to directly look for issues that concern you. With the popular topics tab at the top, you can also easily access common queries. 
Advanced support 
With the above support options in place, it is time for you to take your customer service experience to the next level. Since technology is rapidly evolving, it is necessary that your customer support also evolves with the times. Here we bring to you the next-gen of customer support. 
#6. Don't want to wait for the next available agent?" – Chatbot Support 
In a recent study, 44% of the respondents said that they prefer chatbots over human support. Chatbots stick to your SLAs (Service Level Agreements) and further help in bringing down key metrics such as First Response Time. They also let you offer 24/7 support and reduce the number of incoming queries that your support team needs to solve by solving common queries on their own. 
However, chatbots can only handle as much as they are designed or trained to handle. Whether you decide to move forward with a simple answer bot or an AI-powered custom bot, the most important thing is to provide for seamless handoff to human agents if a final resolution cannot be reached. With an answer bot, you can set predefined answer options to the most common questions and seamlessly guide customers to the answer they're most likely looking for.
On the other hand, AI-powered custom bots are arguably the most advanced form of technology-based customer support and use Machine Learning (ML) and Natural Language Processing (NLP) to identify the type of customer query and solve the common ones immediately with all the information readily stored in place. 
Here is an example of an AI-powered smart chatbot from Freshchat. It has custom flows for the customers to choose from and then seamlessly transfers the chat to a human agent. With the right training, chatbots can do wonders and be a helpful counterpart for your support agents. 
#7. "Hey, here are your updates" – Messaging Apps 
With over 1 billion active users, messaging apps such as Whatsapp and Facebook Messenger are the newest way to directly reach your customers. If your company sells services or products online, direct messaging apps are an excellent opportunity to increase sales. In addition to Whatsapp and Facebook Messenger, Instagram direct, Telegram, and Apple Business Chat are also other messaging apps in the market used for customer service. These apps let you connect with your customers in real-time and also build a personal relationship. 
With messaging apps, you can send out updates to your customers. For instance, if your customer made a purchase or booked tickets for a movie, you can send the details directly on Whatsapp. Since people already use and have these messaging apps installed on their phones, it is quite convenient for them to access the updates. 
Here is an example of how the shoe brand, Clarks made use of WhatsApp to tell the iconic journey behind the design of the Clarks Desert Boot. 
#8. "Hello, What would you like to hear from me?"- Voice Assistants 
In the present digital world, everyone is familiar with Google voice assistant, Siri and Alexa. But are you wondering how that helps with customer service? Here's your answer:

Remember back in 2018, Google released a video in which the voice assistant made a salon appointment and even imitated the exclamation sounds to make it sound more human. That is the next generation of customer support with voice assistants. 
Source: Pinterest 
Some companies have started linking their self-service sources to these voice assistants. The customers can request an FAQ and these voice assistants can read it loud for the customers to sit back and take note. With rapid technological developments, these voice assistants are promising channels for customer support. 
On-premise Support 
This type of support option is suitable for businesses that offer repair and maintenance services. In this, the customer support is delivered directly to the customer's workplace or home. 
#9. Solutions straight to your doorstep – Field Service Support 
This type of customer service is very convenient for customers, however, managing field service is a tedious process as it requires close collaboration between a support agent and a field service rep. But with the help of field service management software, this process is just a piece of cake. Integrating your customer support and field service solutions lets you easily collaborate with your field teams, locate your customer and navigate seamlessly to the next appointment. 
Freshdesk Field Support Management
Which one to choose? 
One golden rule of customer service is to be present where your customers are. While all these options can be overwhelming, remember that it is not necessary to be present everywhere. 
Identify the channel in which your customers reach out to you and then build your customer support options around these channels. 

Always remember to keep an eye out on

emerging channels to keep up with customer behavior. 

The best way to manage this is to invest in a good

omnichannel support software

to unify all your customer queries and resolve them at a faster rate. 
This will help you utilize your support funds effectively and also grow your business. 
Resources 
https://www.campaignmonitor.com/blog/email-marketing/2019/05/shocking-truth-about-how-many-emails-sent/
https://www.superoffice.com/blog/customer-service-benchmark-report/
https://99firms.com/blog/live-chat-statistics/#gref
https://www.superoffice.com/blog/customer-experience-statistics/
https://www.businessinsider.com/chatbots-vs-humans-for-customer-relations-2016-12?IR=T